600x600 panel light LED Driver
The HE40WU-01 series is a 40W LED driver for LED downlight, LED Ceiling Light, Led Panel Light with UL certificate , which operates from 100VAC to 277VAC input with high power actor. this model has inflaming retarding PC case, and includes short circuit, over current, over voltage and over load protections. This non-dimmable Plastic enclosure led driver is suitable for regular led panel lightss, With high PF, and efficiency. mostly used in indoor lighting application.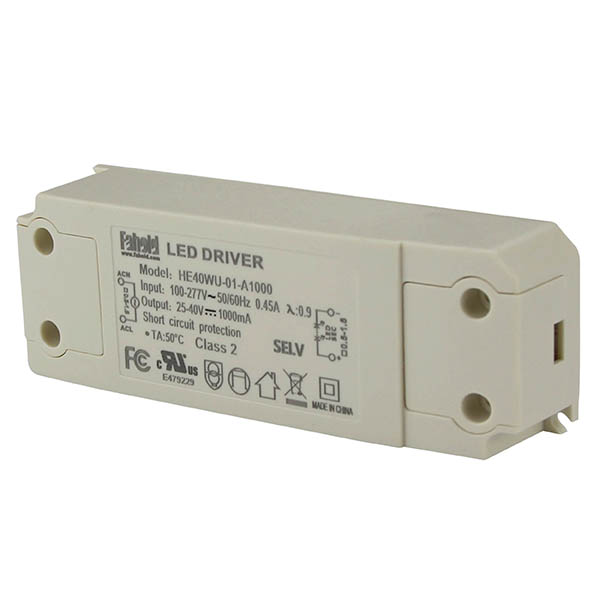 Features & Benefits
· UL Listed
· High PFC
· Lightweight
· Single channel output, output current level selectable by DIP S.W.
· Wide range of input voltage 100VAC ~ 277VAC
· High efficiency up to 87%
· Built-in active PFC function
· 100% output when no dimming signal input, can be used as normal power supply
· Protections: Short circuit.
· Suitable for indoor LED lighting application
Details
This strong plastic enclosure driver is a high PFC, designed for using with our Constant Current Led Driver. This driver rated indoor enclosure made of lightweight but strong plastic with a Laser printing label. Designed for contractor installation, led transformer this driver is UL Listed and features separation for low-voltage and high-voltage wiring in an electrical enclosure. It features four 0.20 inch mounting holes for surface mounting and is designed with mounting hole positions to hold compatible power supplies securely.The HE30WU-01 is for use with the following Constant Current Drivers only:
· 1) 100-277Vac 25-40Vdc 500mA
· 2) 100-277Vac 25-40Vdc 750mA
· 3) 100-277Vac 25-40Vdc 1000mA
· 4) 100-277Vac 25-40Vdc 1200mA
5) 100-277Vac 25-40Vdc 1700mA
Product Specs:
Output voltage:25-40V
Max. Output wattage: 40W
Max. Output Current: 1000mA
Dimensions:115X41X28 mm
Efficiency:87%
Encironment/IP Rating: indoor/IP20
Max. Input voltage:277V
Certificate: UL, FCC
40W LED Panel Lights Led Driver , Desigen for high lumen led panel lights, Led Power Source circuit and dimming smothly. Its housing was made out of srrong plastuc, independent design for the output connection structure, suitable for north Amercian market.