Switching Model 120W 240W 360W LED Power Supply
Switching power supply products are widely used in industrial automation and control, military equipment, scientific research equipment, LED lighting, industrial equipment, communications equipment, electrical equipment, instrumentation, medical equipment, semiconductor refrigeration heating, air purifier, electronic refrigerator, Lighting, communications equipment, audio-visual products, security monitoring, LED light bags, computer chassis, digital products and equipment, and other fields.
For this item, followed are the details:
1. Low price and reliable perfermence.
2. 105 `C output capacitor
3. AC input power suitable for the world
4. High efficiency and low operation temperature.
5. Soft-start current can reduce the AC input impact effectidy.
6. With short-circuit and overload protection.
7. Compact size, light weight.
8. 100% full-load buming test.
9. installed with EMI filter, minmum wave.
Details:
Model

S-350-5V

S-350-12V

S-350-24V

DC Output Voltage

5V

12V

24V

Iutput Voltage Error

± 2%

± 1%

± 1%

Rated Output Current

50A

30A

14.6A

Output Current Range

0-50A

0-30A

0-14.6A

Tripple and Noise

150mVp-p

150mVp-p

150mVp-p

Iniet Stability

± 0.5%

± 0.5%

± 0.5%

Tolerance Voltage

± 1%

± 0.5%

± 0.5%

DC Output Power

250W

348W

350w

Efficiency

76%

78%

80%

Adjustable Range for DC Voltage

4.5-5.6V

10-13.2V

20-26.4V

AC Input Voltage Range

90~132VAC/180~264VAC selected by switch 47~63Hz; 240~370VDC

Input Current

6.5A/115V 4A/230V

AC Inrush Current

Cold-Start Current: 25A/115V, 50A/230V

Leakage Current

<3.5mA/240VAC

Overload Protection

105%~150% Type: Cut Output, Reset: Auto Recovery

Over Voltage Protection

Yes

High Temperature Protection

Yes

Temperature Coefficient

± 0.03% /°C (0~50°C)

Start, Rise, Hold time

200ms, 100ms, 20ms

Vibration

10~500Hz, 2G 10min,/1cycle, a total of 60 minutes, Each axes

Withstand Voltage

Between Input and Output: 1.5KVAC, Input and Shell: 1.5KVAC, Output and Shell: 0.5KVAC

Isolation Resistance

Input and Output Intermal: Input and Enclosule, Output and Enclosure: 500VDC/100M Ohms

Working Temperature and Humidity

`-10°C~+60°C (Refer to Output Dreating Cutive), 20%~90%RH

Storage Temperature and Humidity

`20°C~+85°C, 10%~95%RH

Overall Dimension

210*110*50 mm

Weight

715g

EMC Standards

Meet FCC Part 15J Conduction class B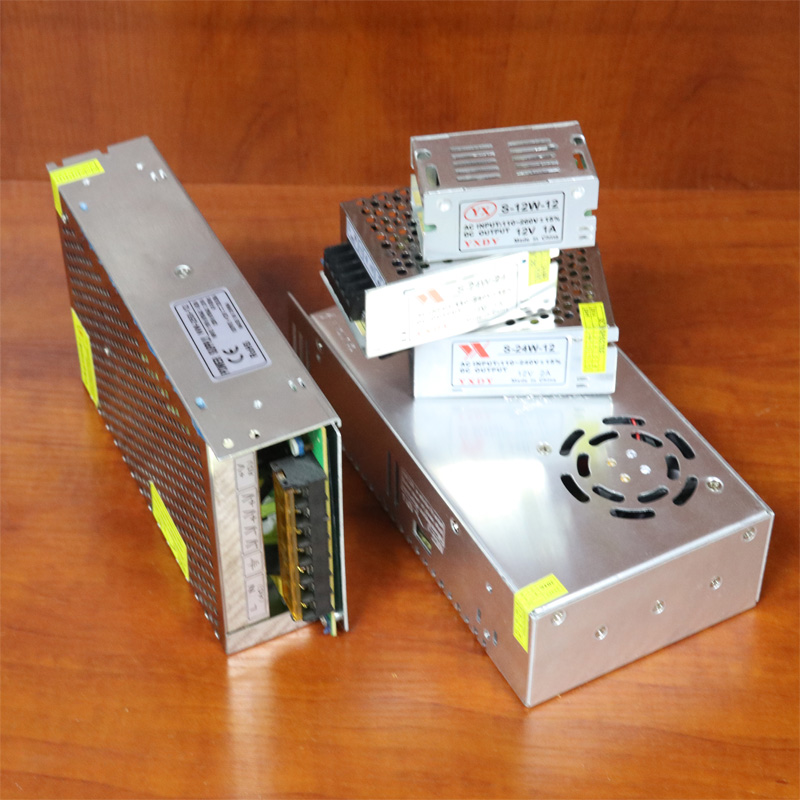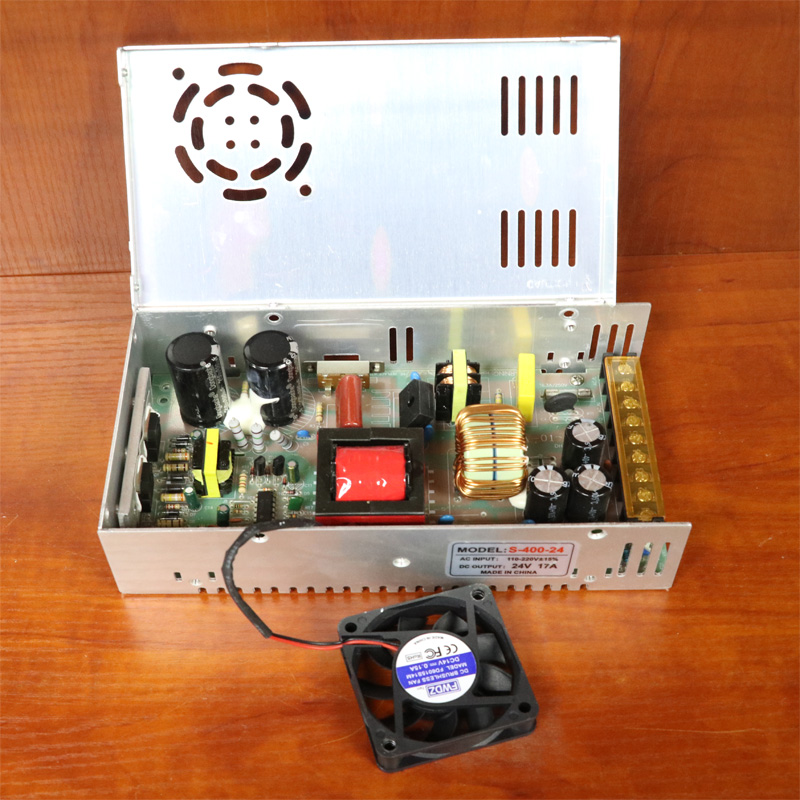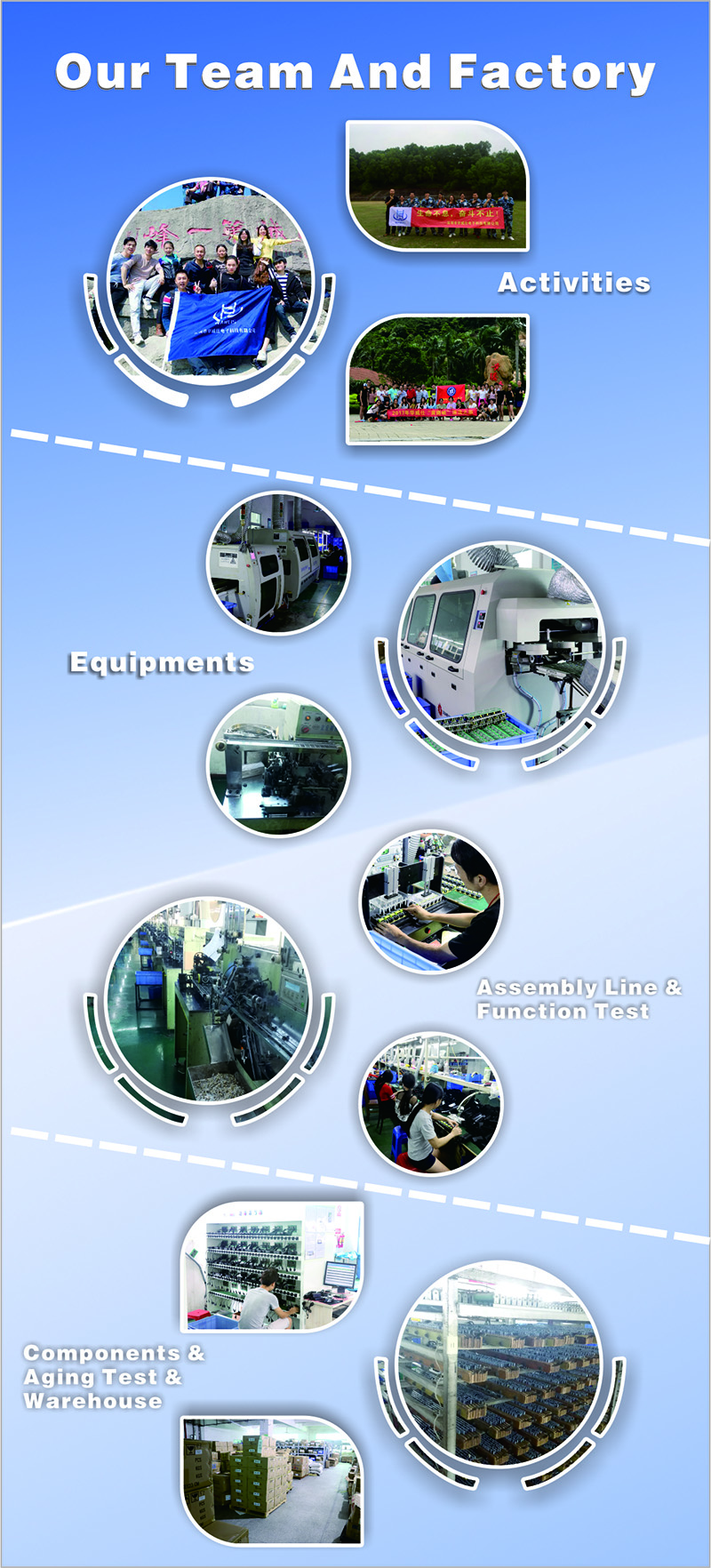 Please Note:
1. The testing condition for the parameter above is: 230VAC input, rated load, 25°C 70%Rh, Humidity.
2. Error, include the setting error, line stability and load stability.
3. Wave test: adopting "A12" double wire for 20MHZ, and 0.1uF capacitor short-circuit for interrupting.
4. Inlet Voltage Stability test: when is over load, the lowest voltage of inter is representative to the highest voltage.
5. Load stability test: the load is from 0% to 100%, others 60%.
6. C3.4 must be knocked down.
Applications:
•Office , Artwork, Display items lighting;
•Household lighting;
•Commercial lighting, such as Flood light, Down light, Flexible strip light, Wall washer, etc;
•Hotel, Restaurant lighting;
•Other public facility lighting.